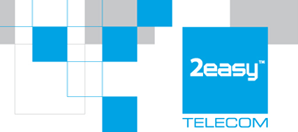 2easy Telecom is an award winning small business committed to offering you a total communications solution.
Since 2easy Telecom was started in 2004 our focus has been to make Telecommunications easier for both Businesses and consumers.
We are small enough to provide a personalised "One Point of Contact" service to our customers but large enough to deliver exceptional value compared to the major carriers. We tailor our services and rate plans to meet your needs and deliver a truly "boutique" one stop solution which the largest carriers simply cannot provide.
2easy Telecom's focus on service has resonated with our customers and we have been ranked in the BRW Fast Starters 2009 for the second year in a row.
We champion the needs of small businesses and consumers and provide a total business communications solution. So if you are looking for a simple alternative to the complex web of telecommunications solutions give us a call - 1300 726 470.